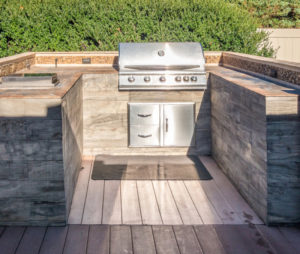 An outdoor kitchen is both a joy for entertaining and a boost to the value of your home. If you already have a deck, you might think you are well on your way to having the ideal outdoor living space. But hold up – your deck may not be strong enough to handle not only the weight of the outdoor kitchen itself but people gathering more in that one area. You might also lack the utilities you'll need and end up with a fire risk if not done properly. Your best bet is to talk to your deck builder to find out how much weight your deck can handle.
Ideally, you should discuss with your deck builder at the start of your deck project that you plan to add an outdoor kitchen later so that all these issues can be addressed in the original build. However, don't worry if it doesn't happen that way. It isn't the end of your outdoor living dreams if your deck isn't strong enough or is otherwise insufficient for your plans. Your deck builder can make adjustments to your deck, so your new outdoor kitchen is safe. This might include added supports, cutouts for venting, or even adding onto your deck to give you sufficient space.
If you are getting started with your outdoor living area or you are adding a feature to an existing deck and need a deck builder who can walk you through the process, don't hesitate to contact us at Timber Fencing. We can help you out regardless of whether we built the deck originally or not. We are also more than happy to assess your deck, so you can have peace of mind that it is in good shape and safe for your family and entertaining. Call today to learn more!