We have the skills and expertise to install a variety of different fences on your residential or commercial property in Charlotte.
At Timber Fencing, we often find that fences are a great addition to any outdoor space, and for a variety of purposes. One thing that is of incredible importance, however, is having a fence installer that can work with your preferred fencing material and that provides quality installation that will last. When you work with our experienced team, you will find that, no matter what your fence preferences may be, we can provide the installation solutions you need for the best results.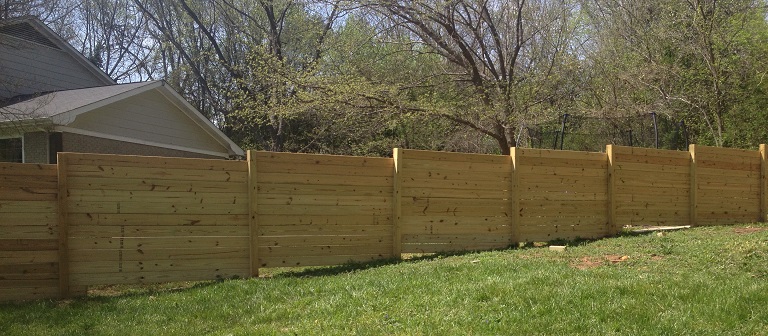 Do you have a specific fencing material in mind, or are you interested in created an appealing landscape? We have the skills and expertise to install a variety of different fences on your residential or commercial property, including wood and aluminum.
Additionally, we have worked with our customers to achieve their vision for their outdoor space, which includes the use of garden, privacy, pool and decorative fences and the accompanying gates that look great and function well on their property. It is important to us to listen to your needs, recommend the fencing materials that will work best for you, and provide expert installation that achieves your desired outcomes.
If you have questions about our fencing services in Charlotte, North Carolina or you would like to schedule a quote, contact us today for more information about how we can assist you. We also offer comprehensive outdoor solutions, including deck building, so we can make sure your entire property looks its best. We look forward to working with you.
FAQs About Fences: What You Need to Know
It has been said that good fences make for good neighbors, but what makes for good fences? We here at Timber Fencing would like to help you answer that question while also providing you with the best information about fences. We have many questions that we are asked on a regular basis about fences, and we hope that this FAQ section will address some that you might have.
What type of fence is best?
This depends on what your needs are! Fences are like houses or cars in that people want certain features to match their tastes and style. With some information about you, we can certainly point you in the direction of fences that will be a good match.
How tall should my fence be?
The height of your fence depends on a lot of things, with city ordinances, HOA requirements, and personal preference being just a few of them. Front yard fences are generally going to be shorter, around 3 ft., while backyard or privacy fences will be closer to 6-8 ft. in height.
How do I find the property line?
The best way to find your property line is to hire a surveyor. Not only will a surveyor look at plans and be able to determine your property line, but many cities require this before they will issue you a permit to build your fence.
What kind of maintenance will my fence need?
Many types of fences such as vinyl, metal and iron need no maintenance except for light cleanings. Wood fences will require regular staining or application of a protective material on a regular basis.