Learn more about the high-quality decks we offer at Timber Fencing.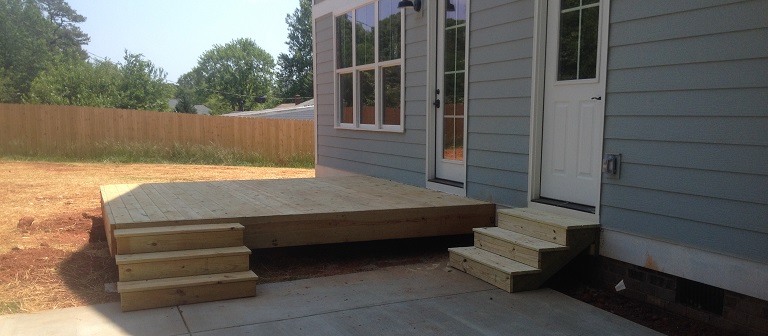 When you're looking to add a functional outdoor space for your family to enjoy, one of the best options is adding a deck. Decks come with a number of benefits. You instantly have the perfect spot for outdoor entertaining when the weather is pleasant in the Matthews, North Carolina area. Whether you're hosting a barbecue or having a family get-together, you can take the party outside with somewhere to go. High-quality decks also increase the value of the property on which they are located. A nice deck can be made of a number of different materials, from wood to weather-resistant manmade materials, but as long as it's able to withstand the elements and is safe for use, a deck will add value to your property.
Adding a deck also isn't as time-consuming as other home addition projects. When you trust our team at Timber Fencing, you can have a new deck on your home in a short period of time. We'll meet with you to discuss your needs and then get started on construction as soon as we have the materials. The addition of a deck also won't disrupt your life the way a home addition or renovation would. Best of all, decks are reasonably priced to fit into just about any budget.
Learn more about the high-quality decks we offer at Timber Fencing. We'd love to talk to you about options and come up with a plan to add a beautiful and functional deck to your property to take advantage of the pleasant weather.
---
Decks in Charlotte, NC
Decks in Huntersville, NC
Decks in Concord, NC